Course Description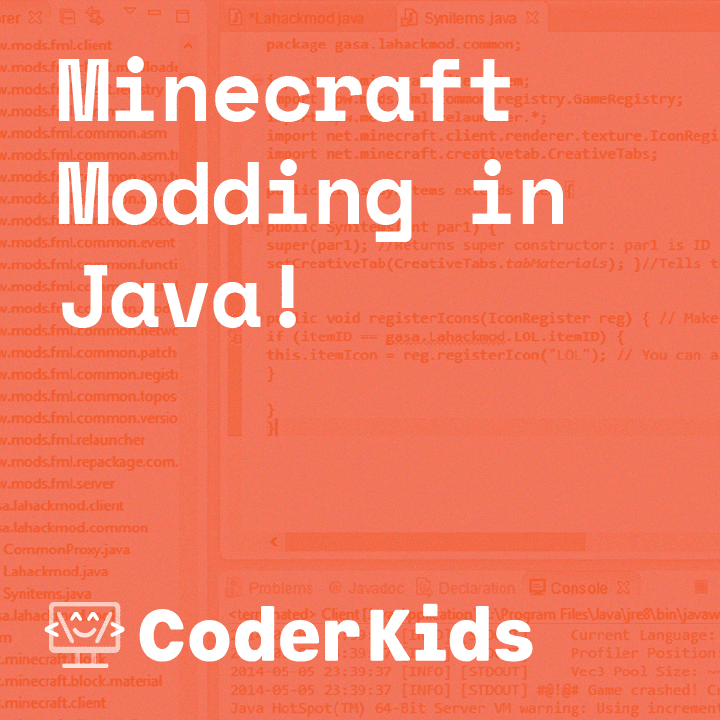 Minecraft Modding in Java Online
ONLINE CLASS
Half Day - Afternoon
July 6 - July 10
1:00PM - 4:00PM
PRICE
$150.00 for 1 week
(Payment plan is available! See payment section.)
Take your love of Minecraft and your coding skills to the next level with our Minecraft Modding class. Using a combination of modding software and some custom skills anyone can do from home, this class is guaranteed to change the way you view Minecraft forever!
Note: We use Minecraft Java Edition (PC/Mac/Linux) for this class. Please purchase Minecraft: Java Edition at https://www.minecraft.net/en-us/get-minecraft and send them with account information on Day 1.
This camp requires a desktop or laptop computer(Windows or macOS) with discord installed. This computer must also have a microphone. If your computer does not have a microphone, most headphones typically have one.
Headphones are required.
If you need to download any of these apps, simply click on the text, and your browser will take you to their download pages
Course Description
{{ e.spots.remainingspottxt }}
{{ e.title }}
{{ e.partnername }}
{{ e.period }}
{{ e.event_date_text }}
{{ e.event_time_text }}
PRICE
${{ e.information.live_cost }} for {{ e.information.remainingsessiontxt }}
(Payment plan is available! See payment section.)
Billing
${{ totalcourseFee }}

{{ kids.length }}

${{ subTotal }}

(-${{ siblingDiscount }})

(-${{ couponAmount }})
${{ grandTotal }}
Have a coupon?
Click here to enter your code